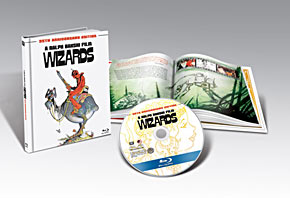 Twentieth Century Fox's first-ever animated film, created by renowned director Ralph Bakshi, Wizards, will be released in a 35th Anniversary Edition Blu-ray + Book on March 13th from Twentieth Century Fox Home Entertainment. Celebrating its 35th anniversary, the "epic fantasy of peace and magic" stars the voice talent of Star Wars icon Mark Hamill. The special edition Blu-ray + Book release is a must-have for fans and collectors, featuring 24-pages of amazing artwork from the film – some never-before-seen – and a special message from Bakshi himself.
FilmFetish has 2 copies of this special collector's edition Wizards Blu-ray available for a giveaway to readers.
In order to be entered the Wizards random drawing:
Visit our Facebook page at facebook.com/filmfetish and make sure you've 'Liked' us.
THEN, post the following comment EXACTLY AS IS, on our Facebook Wall: "I just entered a contest for a Free Collector's Edition Blu-ray of the animated cult classic Wizards on www.FilmFetish.com, and you can, too!"
I'll be running the Wizards contest through Friday, March 23rd, 2012.
Set on a post-apocalyptic Earth, this fantasy adventure follows the story of Avatar, the kindly, eccentric sorcerer-ruler of Montagar, a rainbow paradise inhabited by elves and fairies. Avatar's evil brother, Blackwolf, dominates Scortch, a bleak land of goblins and wraiths. When the power-hungry Blackwolf attacks Montagar, Avatar, accompanied only by a spirited young woman and a courageous elf, must enter the darkness of Scortch to save his world.
For more information on Wizards, along with a gallery of screenshots from the film, CLICK HERE.
More about Ralph Bakshi
Before Ralph Bakshi would make Wizards, he would stir up controversy with 1972's X-rated animated feature, Fritz the Cat, about Fritz, a feline in mid-1960s New York City who explores the ideals of hedonism and sociopolitical consciousness. Despite racy content, it remains the most successful independent animated feature of all time, grossing over $100 million worldwide.
It's likely when you think of animated movies; your mind goes right to the typical Disney fare and the Looney Tunes. But Ralph Bakshi's cult classic Wizards is a science fantasy film about the battle between two wizards, one representing the forces of magic and one representing the forces of industrial technology. The 1977 post-apocalyptic-themed animated movie has a rather heavy subject matter for cartoons, but it's not the first animated attempt at a darker tone. There is a little irony in seeing these twisted tales played out by cartoons but it never diminishes their entertainment value. Other cartoons characters that have wrestled with the questions of the ages, include: Batman: Mask of the Phantasm, Akira, Spirited Away, The Nightmare Before Christmas, Persepolis, The Triplets of Belleville and of course, Fritz the Cat.
For those unfamiliar with the work of legendary artist and animator Ralph Bakshi, here is a partial list of cult classic animated film projects he has either animated, directed, or both.
Christmas in Tattertown TV movie (1988)
Mighty Mouse, the New Adventures TV series (1987-1988)
Fire and Ice (1983) – Collaboration with fantasy artist Frank Frazetta
Hey Good Lookin' (1982)
American Pop (1981)
The Lord of the Rings (1978)
Wizards (1977)
Coonskin (1975)
Heavy Traffic (1973)
Fritz the Cat (1972)
Martin Luther King, Jr. (1971)
Spider-Man TV series (1968-1970)